The Supra C skate skis are perfect for Loppet racers or for those looking for great skate skis that make staying fit and active in the winter easy and fun. Of all the Peltonen skate ski models, the Supra C is the best value for the dollar. The skis have several high-end qualities making them perfect for skiers who don`t need to shave off every last second from their race but would like a ski that will not inhibit their technique. A low-profile flex and Aircell core with an improved tip and tail gives a very comfortable and stable skiing experience when compared to other brands. The universal profile with a racing level base material works perfectly in most snow conditions. Flexes are available in a uniquely wide range - also for heavy-weight skiers. We highly recommend you get your Supra C skis custom selected to fit your height, weight, skill level, and for your targeted snow conditions. Please get in touch with us using the `chat` feature on the website if you have questions about factory-picked & custom-selected skis. These skis are B-Grade quality from the factory, meaning they either have minor cosmetic defects or the flexes of each ski do not match as closely as we`d like. These skis have old graphical designs and are therefore on clearance while supplies last.
Ships World-Wide! $5 shipping on orders over $100, Free-Shipping over $250 to North American

Full Refunds on Undamaged Items Refunds Policy
All in-stock items ship next-business-day from Thunder Bay, Ontario, Canada. Shipping Policy
Regular price
$114.00 USD
Regular price
$378.00 USD
Sale price
$114.00 USD
Unit price
per
Regular price
$114.00 USD
Regular price
$378.00 USD
Sale price
$114.00 USD
Unit price
per
Share
View full details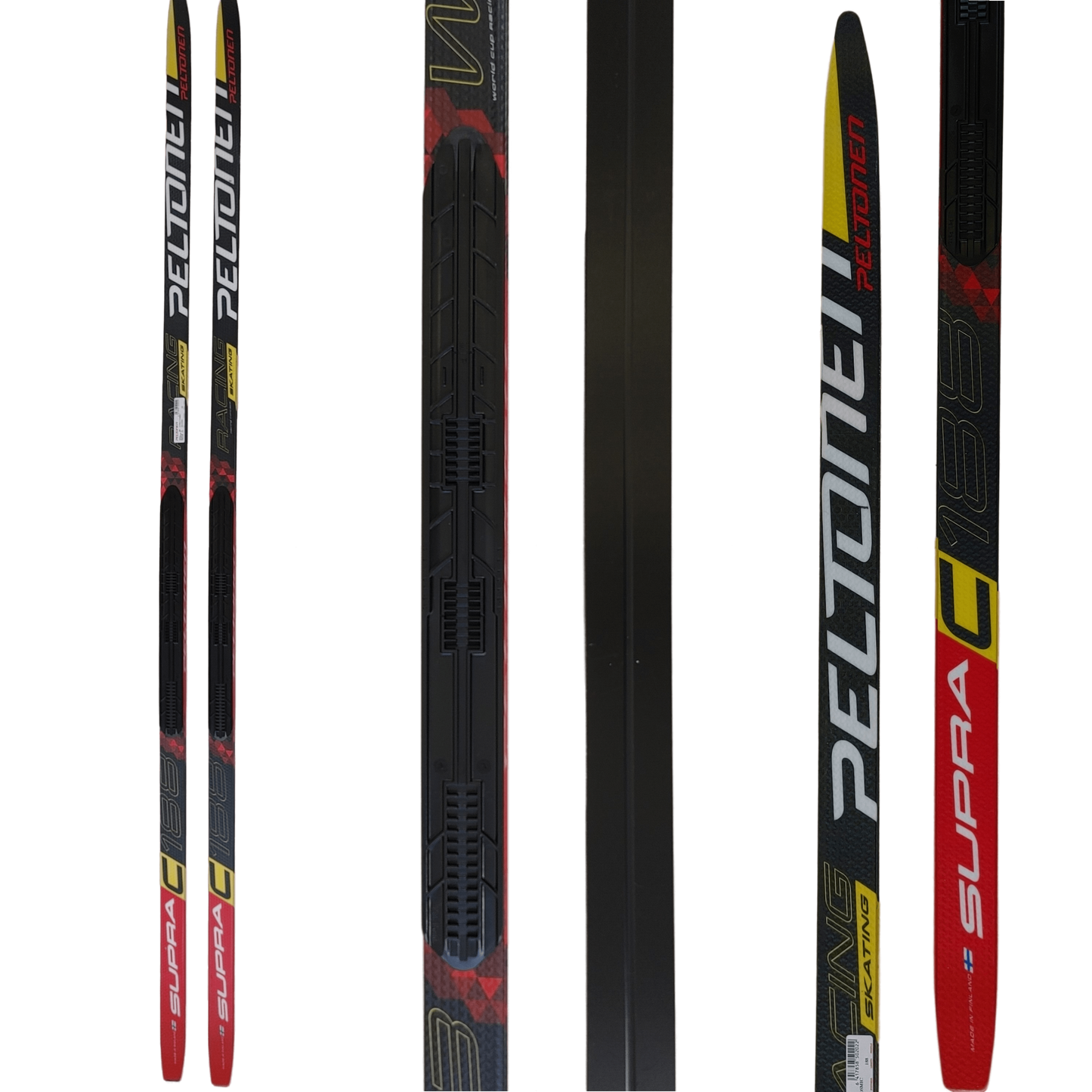 Sizing/Flex Chart Coming Soon
The Peltonen sizing/flex chart takes a decent amount of interpretation to get right. We recommend getting in touch with us at info@skiwax.ca with the following info;
The ski model (Infra X WET/KLISTER, Supra X UNIVERSAL, etc...)
the skier`s height,
the skier`s weight,
the skier`s ability, (beginner, experienced, racer, etc...)
the snow type you`d like the skis to work best in,
and if you`d like bindings, poles, or boots as part of a package deal!
With this info, we can choose you a pair of skis that will be a perfect fit! Click here to email us: info@skiwax.ca
Features:
• Comes with AIRCELL AviFlex Core construction. A very light, strong core material well established in the Nordic Ski industry.
• Built-in NIS 1.0 plate compatible with NIS bindings
• High-performance PRG 4100 base material
• Universal flex profile for great performance in all track conditions. Get in touch with us if you`d like to have your skis picked for a specific snow type. A pair of skis that fit right are truly amazing.
• Industry-leading laminate sublayer: Peltonen bases are exceptionally flat out of the factory and stay flat after hotboxing & applying wax with high-temperature irons thanks to the reinforcing laminate sublayer sandwiched between the core material and the base material. The reinforcing laminate sublayer keeps the ski bases flat for many seasons reducing the need for stone-grinding as a means to re-flatten the bases. Flat bases are much easier to wax and they distribute pressure evenly on the snow during the glide phase of skate-kick or when in a tuck position.
• ControlEDGE sidewall allows the ski to cut into hard track or in icier conditions - making it easier for you to get an edge.
•
• Bindings are sold separately.
More from Peltonen Racing Collection
Taxes and
shipping
calculated at checkout. $5 shipping on orders above $100 & Free-Shipping above $250 to all North American addresses.