Experience the next level of performance with MasterWax Racing FluorFree Extreme Cold Wool-Apply wax, specially crafted for those frigid and demanding conditions. Wool-apply waxes typically lose their effectiveness in cold, abrasive snow situations, but this puck excels even at the lower end of its temperature range. What sets the wool-apply system apart is its ability to enhance your ski bases' natural structure, making your cold-snow stone grind shine. Not only is our 20g cold-apply puck highly effective, but the product is used incredibly efficiently. A single puck can last for dozens of pairs of skis thanks to its minimal wax consumption, delivering substantial performance with minimal usage. Upgrade your racing experience with MasterWax today!
Ships World-Wide! $5 shipping on orders over $100, Free-Shipping over $250 to North American

Full Refunds on Undamaged Items Refunds Policy
All in-stock items ship next-business-day from Thunder Bay, Ontario, Canada. Shipping Policy
Regular price
$113.00 USD
Regular price
$0.00 USD
Sale price
$113.00 USD
Unit price
per
Share
View full details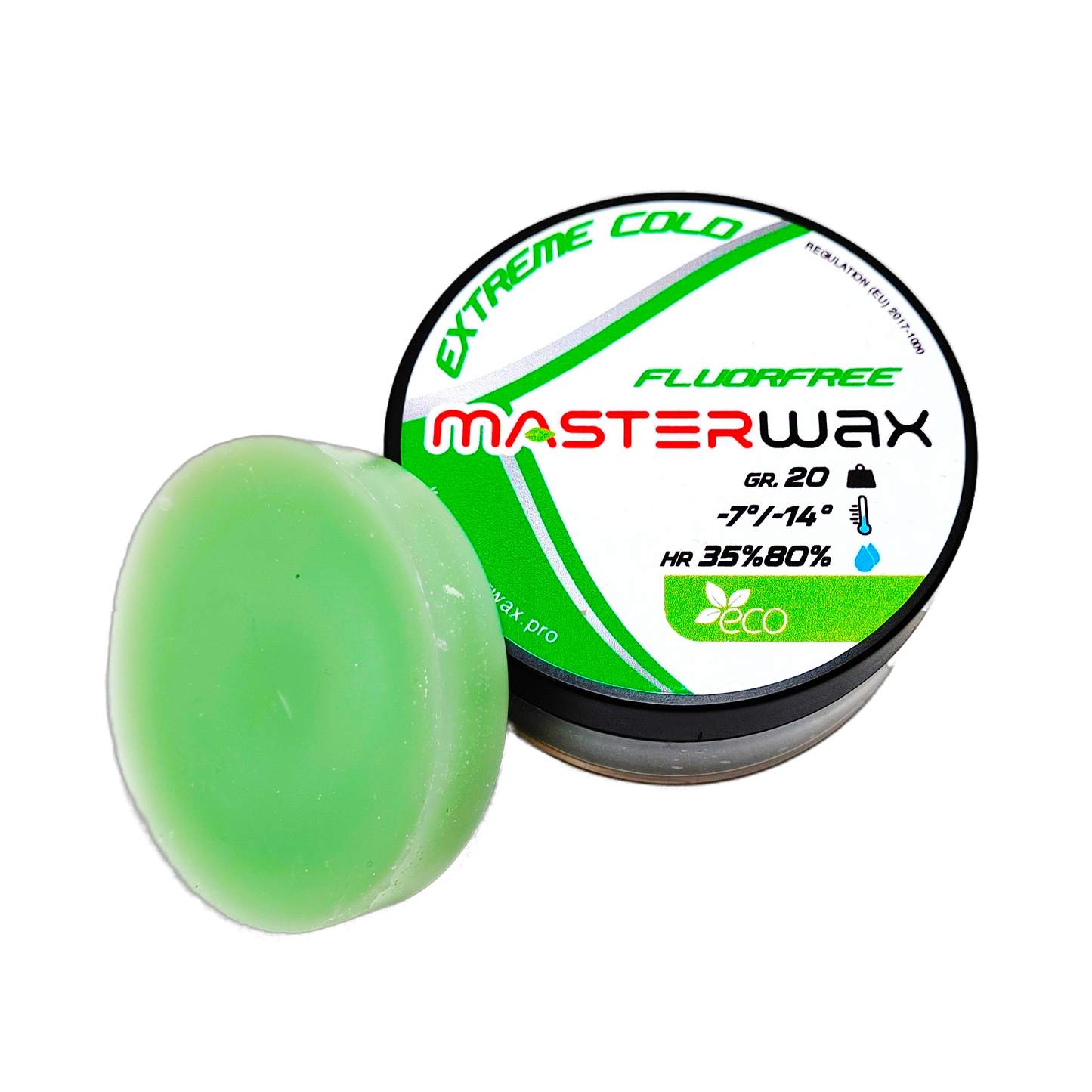 Features:
• Comes in a 20g block. Since the cold-apply waxing method is so efficient with product, you`ll get many pairs of fast skis out of this block.
• Make sure to label your wool applicators with the wax they`re for. Using the same wool applicator for different types of wax is not advised since cross contaminating the wool can negatively affect performance.
Recommended for these snow ages:
Fresh Falling
New
Transforming
Transformed
Old
Icy
Man-Made
Humidity Range: 30% to 85% Relative Humidity
Certified Fluor-Free!
Application Methods:
Ski Waxing Safety Measures:
Cost Breakdown: How many pairs of skis can be waxed with this product?
Waxes This Many Pairs of Cross Country Skis:
More from MasterWax Racing Fluorfree Cold Apply Wax Line