The Supra X UNIVERSAL is the best elite skate skis Peltonen has to offer you for skis for clean, dry to humid, medium to soft packed snow conditions. These skis are built to give you the fastest gliding race skis across the widest array of snow conditions so you can focus on getting to the finish line as fast as possible. Peltonen continues to refine their ski construction philosophy: With this season`s version of the Supra X, they have lowered the camber and stiffened the front pressure zone resulting in better glide across all snow conditions. The NOMEX Honeycomb Core construction makes these skis exceptionally lightweight, XXT ExtraLight CARBON Tip and Tail make the skis feel snappy and alive, & the FLUOR-FREE Nano High-Speed base material (NHS) shows up best at high speeds. If you are looking for the best all-around skate skis, the Supra X UNIVERSAL can be custom selected to fit your height, weight, skill level, and exact snow conditions you`d like them to work best for you. Please get in touch with us using the `chat` feature on the website if you have questions about factory-picked & custom-selected skis. These skis are B-Grade quality from the factory, meaning they either have minor cosmetic defects or the flexes of each ski do not match as closely as we`d like. These skis have old graphical designs and are therefore on clearance while supplies last.
Ships World-Wide! $5 shipping on orders over $100, Free-Shipping over $250 to North American

Full Refunds on Undamaged Items Refunds Policy
All in-stock items ship next-business-day from Thunder Bay, Ontario, Canada. Shipping Policy
Regular price
$378.00 USD
Regular price
$582.00 USD
Sale price
$378.00 USD
Unit price
per
Share
View full details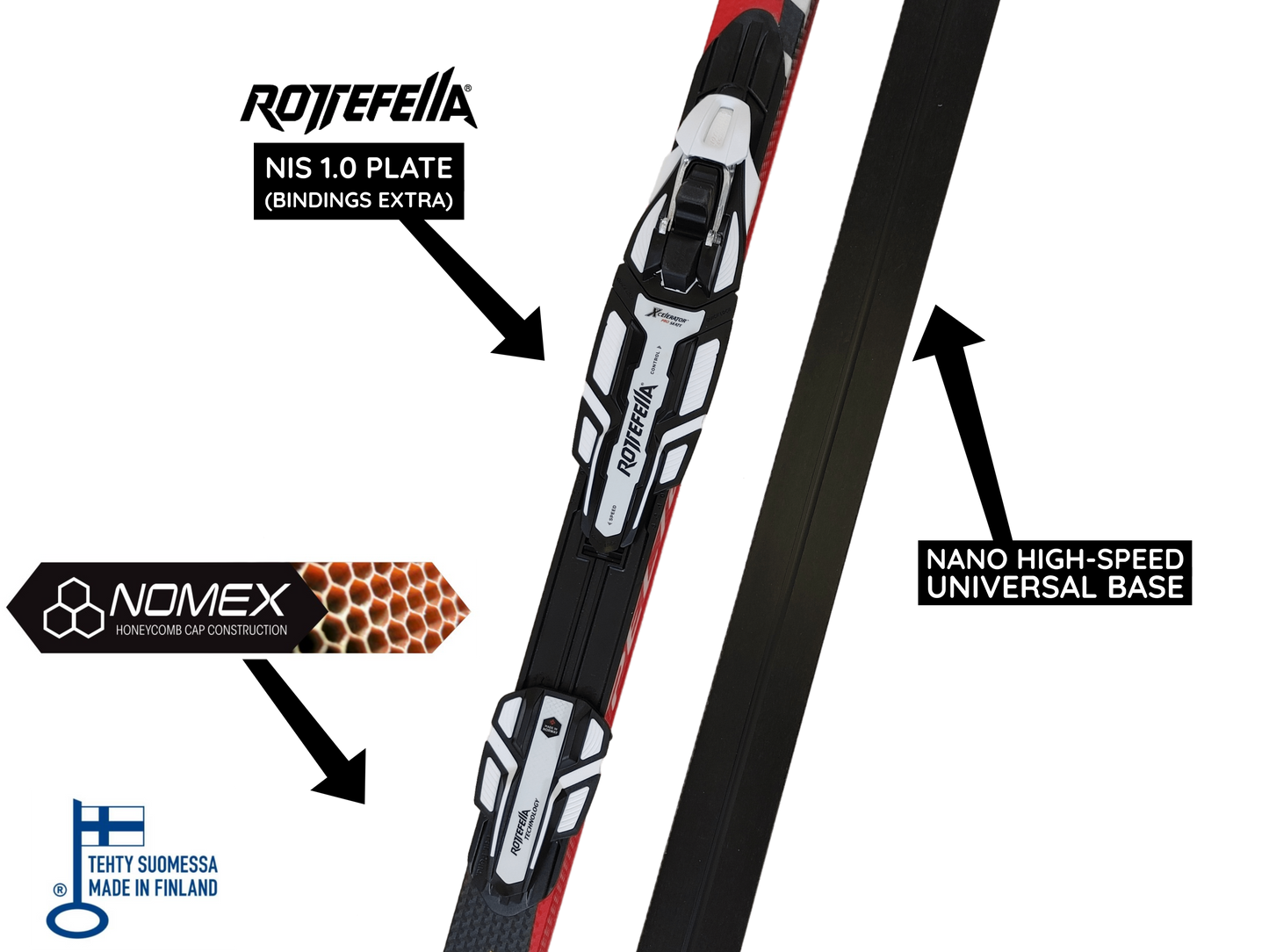 Sizing/Flex Chart Coming Soon
The Peltonen sizing/flex chart takes a decent amount of interpretation to get right. We recommend getting in touch with us at info@skiwax.ca with the following info;
The ski model (Infra X WET/KLISTER, Supra X UNIVERSAL, etc...)
the skier`s height,
the skier`s weight,
the skier`s ability, (beginner, experienced, racer, etc...)
the snow type you`d like the skis to work best in,
and if you`d like bindings, poles, or boots as part of a package deal!
With this info, we can choose you a pair of skis that will be a perfect fit! Click here to email us: info@skiwax.ca
Features:
• UNIVERSAL FLEX PROFILE: Longer pressure zones give your skis fantastic speed in medium to soft packed snow. These skis can be custom-selected based on your details to work best in the snow conditions you specify to us.
• Comes with NOMEX Honeycomb Core construction. The lightest and strongest core material available in the Nordic Ski industry
• XXT ExtraLight CARBON Tip and Tail: Carbon fiber plates are constructed into the tip and tail of the skis to provide several race-caliber benefits: Snappy, high-feedback tips feel energized and give back some of your input forces. XXT carbon fiber wedges provide higher torsional rigidity, especially on technical downhills. And the additional carbon fiber is less prone to aging: Increasing the longevity of the skis` flex profile.
• Built-in NIS 1.0 plate compatible with NIS bindings
• Fluoro Nano High-Speed base material (NHS): Previous to 2020, all NHS ski bases contained very, very large amounts of fluoro additives baked in the base material. Starting in 2021, all Peltonen skis are 100% fluoro-free made without any fluoro additives in the base material. The factory stone-grind is ideal for average snow temperatures.
• Industry-leading laminate sublayer: Peltonen bases are exceptionally flat out of the factory and stay flat after hotboxing & applying wax with high-temperature irons thanks to the reinforcing laminate sublayer sandwiched between the core material and the base material. The reinforcing laminate sublayer keeps the ski bases flat for many seasons reducing the need for stone-grinding as a means to re-flatten the bases. Flat bases are much easier to wax and they distribute pressure evenly on the snow during the glide phase of skate-kick or when in a tuck position.
• The Supra X also comes in Hard-Track and Wet Track profiles. Bindings are sold separately.
•
More from Peltonen WCR Racing Collection