The Infra X ZERO skis are Peltonen`s `rub` ski aka harries. Used by the best athletes in the world, these skis come with a special grip-zone material that`s meant to be sanded to provide grip through its rough texture. Only suitable for snow conditions around `ZERO` Celsius, especially in fresh-falling snow. These skis are B-Grade quality from the factory, meaning they either have minor cosmetic defects or the flexes of each ski do not match as closely as we`d like. These skis have old graphical designs and are therefore on clearance while supplies last.
Ships World-Wide! $5 shipping on orders over $100, Free-Shipping over $250 to North American

Full Refunds on Undamaged Items Refunds Policy
All in-stock items ship next-business-day from Thunder Bay, Ontario, Canada. Shipping Policy
Regular price
$393.00 USD
Regular price
$605.00 USD
Sale price
$393.00 USD
Unit price
per
Regular price
$393.00 USD
Regular price
$605.00 USD
Sale price
$393.00 USD
Unit price
per
Regular price
$393.00 USD
Regular price
$605.00 USD
Sale price
$393.00 USD
Unit price
per
Share
View full details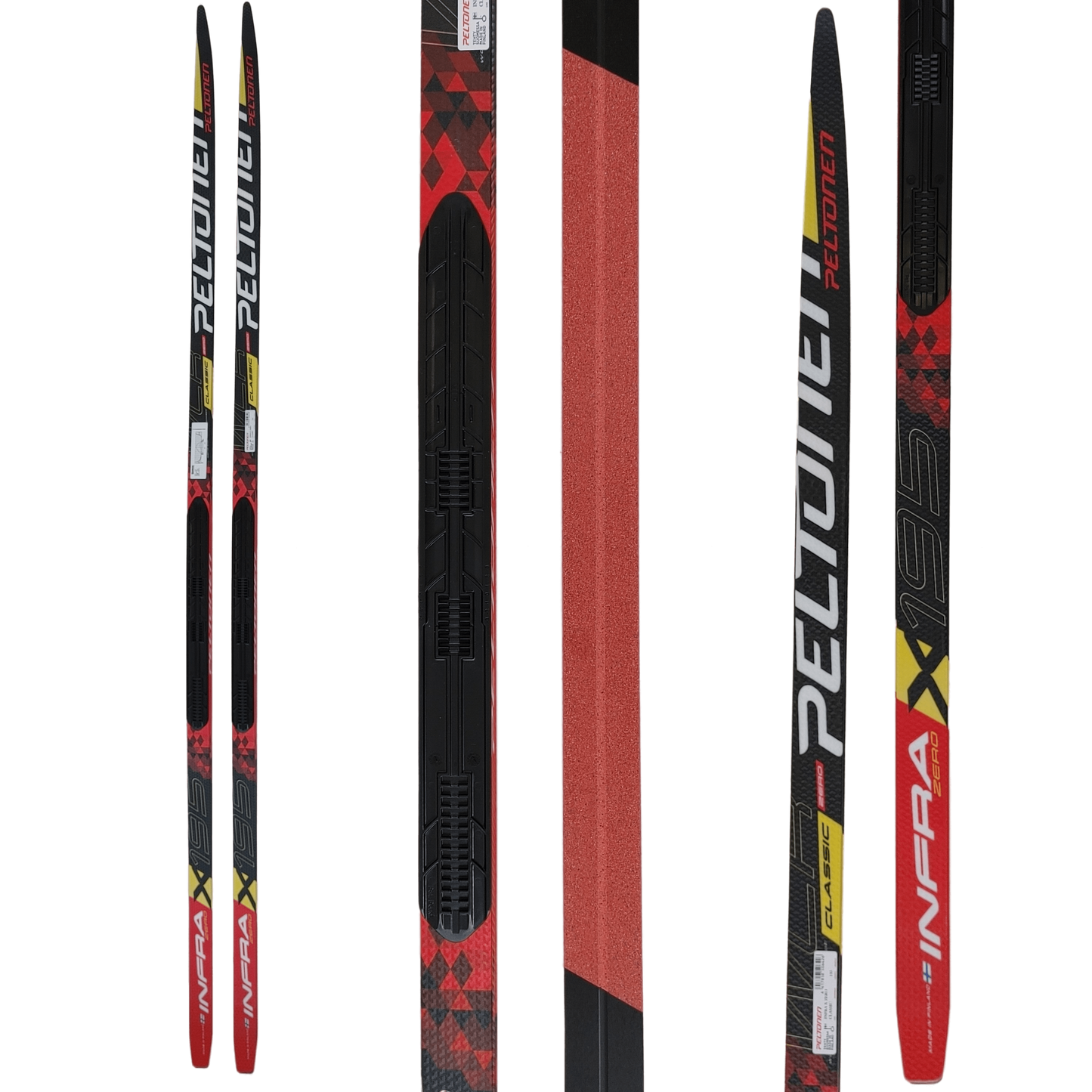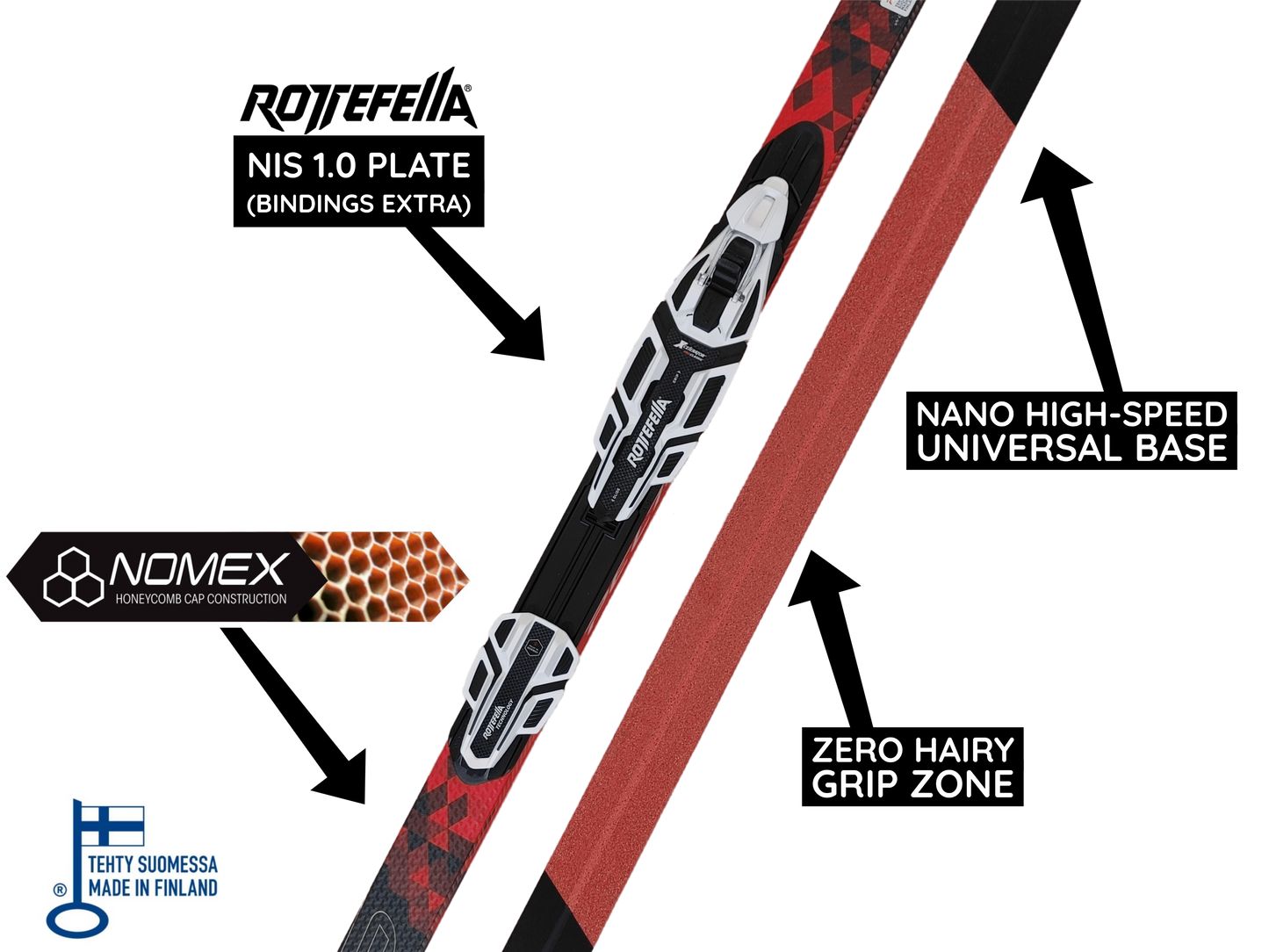 Sizing/Flex Chart Coming Soon
The Peltonen sizing/flex chart takes a decent amount of interpretation to get right. We recommend getting in touch with us at info@skiwax.ca with the following info;
The ski model (Infra X WET/KLISTER, Supra X UNIVERSAL, etc...)
the skier`s height,
the skier`s weight,
the skier`s ability, (beginner, experienced, racer, etc...)
the snow type you`d like the skis to work best in,
and if you`d like bindings, poles, or boots as part of a package deal!
With this info, we can choose you a pair of skis that will be a perfect fit! Click here to email us: info@skiwax.ca
Features:
• ZERO profile: Since these skis are not meant to be used with kick wax, the flex profile leaves no space for grip wax. We can custom-select a pair that fits your characteristics and ensure the flex profile will give you the best grip/glide trade-off.
• Comes with NOMEX Honeycomb Core construction. The lightest and strongest core material available in the Nordic Ski industry
• Grip Pocket: Compared to other ski brands, the Infra X grip pocket rides high - meaning it lifts your grip zone off the snow more so than other brands. This increases the `glide of your grip zone`. The flex feels very elastic and supple when the grip wax is compressed during the kick phase - giving you easy grip without excess effort. The grip pockets close very evenly, meaning the pressure of your kick is spread across the entire grip zone with no areas of increased demand on your grip zone. This maximizes the effectiveness of each millimeter of the grip zone.
• Built-in NIS 1.0 plate compatible with NIS bindings
• FLUOR Nano High-Speed base material (NHS): Previous to 2020, all NHS ski bases contained very, very large amounts of fluoro additives baked in the base material. Starting in 2021, all Peltonen skis are 100% fluoro-free made without any fluoro additives in the base material. The factory stone-grind is ideal for average snow temperatures.
• Industry-leading laminate sublayer: Peltonen bases are exceptionally flat out of the factory and stay flat after hotboxing & applying wax with high-temperature irons thanks to the reinforcing laminate sublayer sandwiched between the core material and the base material. The reinforcing laminate sublayer keeps the ski bases flat for many seasons reducing the need for stone-grinding as a means to re-flatten the bases. Flat bases are much easier to wax and they distribute pressure evenly on the snow during the glide phase of skate-kick or when in a tuck position.
•
More from Peltonen WCR Racing Collection
Taxes and
shipping
calculated at checkout. $5 shipping on orders above $100 & Free-Shipping above $250 to all North American addresses.