Racing Wax: Fluoro Free Glider - Following restrictions imposed on the use of fluorinated products in some competitions, STAR has designed a line of Fluor Free Products specifically dedicated for the competition called NEXT. Next is the first choice for those looking for racing products with alternative additives to "fluoro." The best synthetic paraffins combined with new additives make these products unique in their kind, guaranteeing performance that was unthinkable for a product without fluoro. Tests have shown that these products maintain their lubricating characteristics for many kilometers even in conditions of dirty, abrasive or difficult snow. The same micro-ceramics found in the NEXT Powders are suspended in these liquids.
Ships World-Wide! $5 shipping on orders over $100, Free-Shipping over $250 to North American

Full Refunds on Undamaged Items Refunds Policy
All in-stock items ship next-business-day from Thunder Bay, Ontario, Canada. Shipping Policy
Regular price
$0.00 USD
Sale price
$53.00 USD
Unit price
per
Share
View full details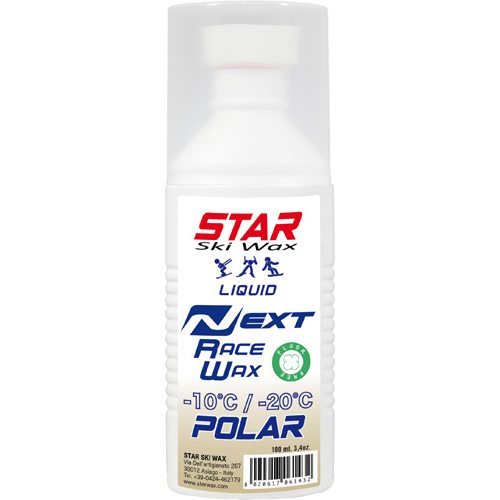 Fleecing Application
Cork Buffing Application
Features:
• Comes in 100mL bottle with foam applicator.
• Isopropyl alcohol solvent is much safer and environmentally sound when compared to liquid waxes from other companies.
• Fastest drying liquid for quicker application. Dries in only 1 minute!
• Liquid can be ironed in after drying for increased durability.
• Corking or felting also suitable ways to buff.
• Finish with wool or nylon!
Recommended for these snow ages:
Fresh Falling
New
Transforming
Transformed
Old
Icy
Man-Made
Iron Temperature: 150 ºC
Certified Fluor-Free!
Additives:
Application Methods:
Ski Waxing Safety Measures:
Cost Breakdown: How many pairs of skis can be waxed with this product?
Waxes This Many Pairs of Cross Country Skis:
More from STAR NEXT Fluoro-Free Racing Waxes