Updated to now contain the RXL liquids rather than the RL. The Liquid Glide Kit (AR234) is now the kit for the RL liquids. All you need for fast fluoro-free race skis! This kit comes with all three RXL liquids from Rode. Glide cleaner and fiber paper are used to maintain clean bases. The Nylon brush is for buffing and polishing after applying the liquids.
Ships World-Wide! $5 shipping on orders over $100, Free-Shipping over $250 to North American

Full Refunds on Undamaged Items Refunds Policy
All in-stock items ship next-business-day from Thunder Bay, Ontario, Canada. Shipping Policy
Regular price
$113.00 USD
Regular price
$0.00 USD
Sale price
$113.00 USD
Unit price
per
Share
View full details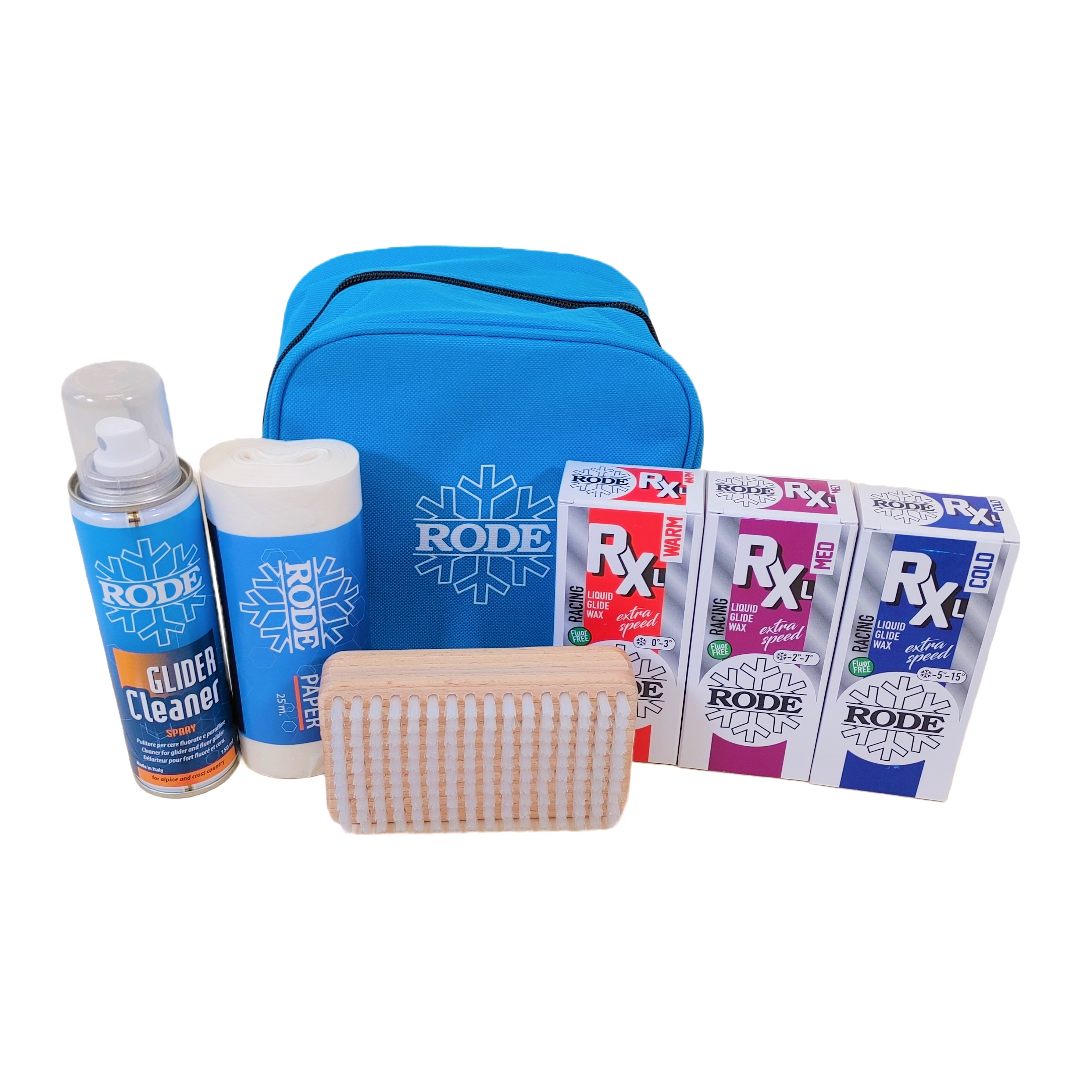 Features:
• Contains an 80ml bottle of RXL Warm for 0C to -3C, an 80ml bottle of RXL Medium for -2C to -7C, and a 80 ml bottle of RXL Cold for -5C to -15C. The bottles come with fibertex pads to spread the wax on the ski base.
• A soft nylon brush is included to buff and polish the liquid glide wax after the solvent has dried.
• A 150 ml bottle of Glide Cleaner is included for keeping maintaining clean ski bases.
• A 25 meter roll of fiberlene cloth to wipe off excess glide cleaner.
• All packed into a zip-up travel bag.
Recommended for these snow ages:
Fresh Falling
New
Transforming
Transformed
Old
Icy
Man-Made
Certified Fluor-Free!
Application Methods:
Ski Waxing Safety Measures:
Cost Breakdown: How many pairs of skis can be waxed with this product?
Waxes This Many Pairs of Cross Country Skis:
More from Rode RL Liquids